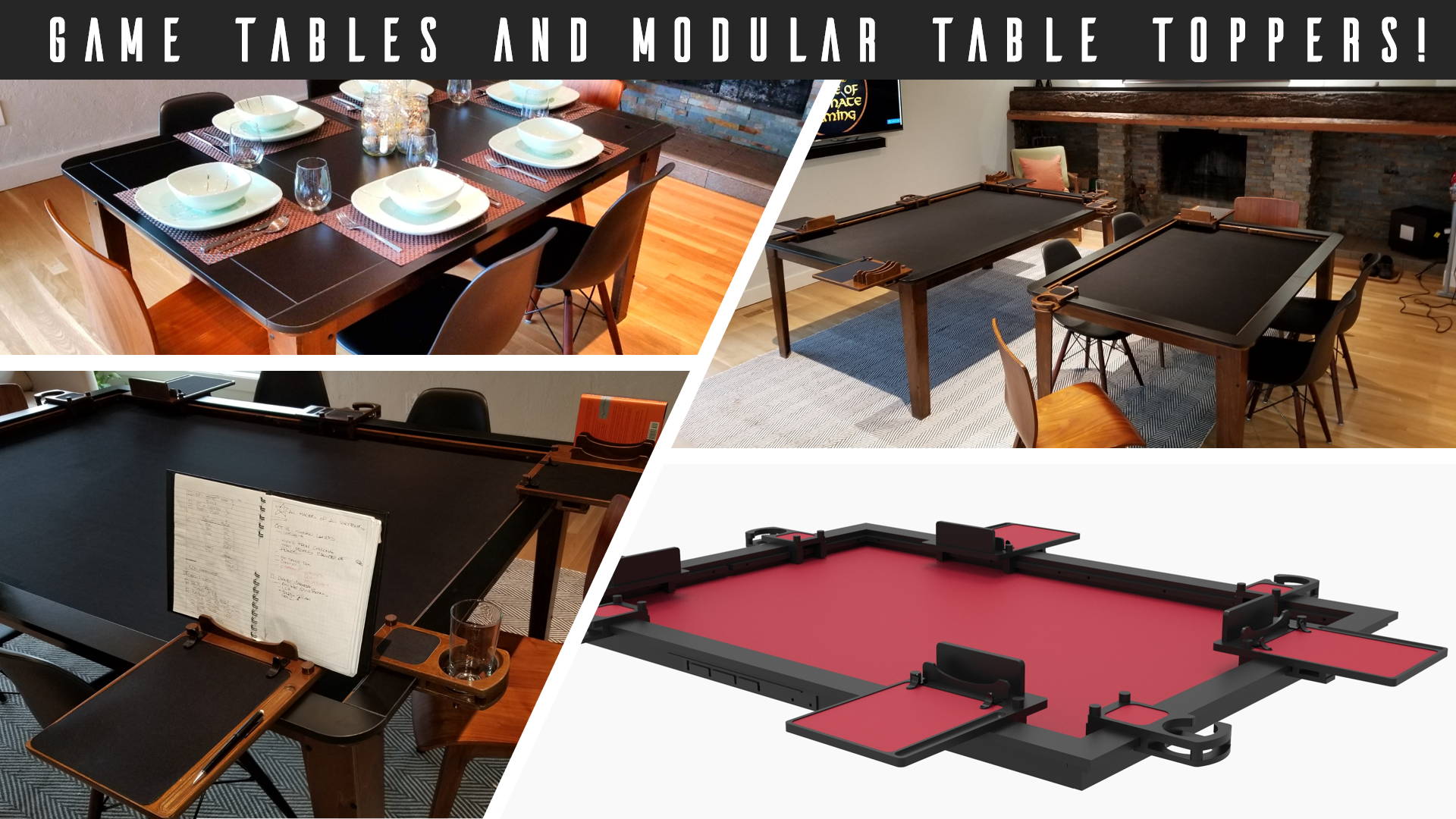 GameChanger Tables and Table Toppers

FREE GAME TABLE  
GIVEAWAY

UP TO A $600 Value!

Enter below
or click button to enter!
No matter the price point, the Table of Ultimate Gaming brand delivers amazing value. Even more important, we are the leader in gaming tables and a brand that you can trust. Our new GameChanger Series complements our higher-end Elite Series, and is designed for gamers who are looking for the most ultility at the lowest price and an amazing overall value. Four table sizes and two topper sizes, with unlimited topper length extentions, are available. Explore more below and enter the contest and check back every day!
KICKSTART BEGINS MONDAY SEPTEMBER 10th @ 10:30AM Chicago Time.
---
Everyone has different tastes. The GameChanger appeals to the gamer looking for a more simple design but who still want maximum value.
Tables available in 2x4', 3.5x5', 4x4' and 4x6' play area sizes. Three leg sizes available so you can set your table up at coffee table, standard dining or tall bar height.
Table toppers convert any table you have into a game table and store away afterwards! Available in 3.5x5' and 4x4' sizes BUT they each have 2' wide inserts that can be added. So 3.5x5' topper with inserts becomes 3.5x7' or 3.5x9' or 3.5x11' - the 4x4' topper becomes 4x6' or 4x8' or 4x10' - - and you can keep going longer if you wish!
All The Accessories You Need
Of course since it is a Table of Ultimate Gaming brand table, we deliver all the accessories that you need and want to get the most out of your gaming. All accessories from the GameChanger tables and table toppers are compatible with each other. Optional cup holders, full top covers for dining, Big Pads for extra space, campaign screens, card organizers, power and USB outlets, wireless charging, multiple color and style play mats are are just a few options you can choose from. Start with the base table and create exactly what you want. We do not make you buy anything that does not serve your play and style. Play your way with the GameChanger from Table of Ultimate Gaming.
Our Table Toppers Are Modular
---
GameChanger Table Toppers are designed to fit on top of an existing table that you own. And they are designed to be portable to a friends house, or to easily store away in available protective cases. Choose either a 3.5'x5' topper or the 4'x4' topper combine the two sections and play your way! Need more space? No problem, we offer 2' inserts for each size topper. So you can start with a 3.5'x5' topper and add a 2' insert to create a 3.5'x7' or 9' or 11' toppper! By the same token you can start with the 4'x4' topper and create a 4'x6' or 8' or 10' or longer topper! We have the mats to fit as well! Click the video on the right to see more.
 "For the past few weeks, my gaming group and I have spent a lot of time with my new 4x6 table! The day my table arrived, my gaming group came over to help me set it up and we immediately broke it in with some of our Gen con purchases! The table fits perfectly in my gaming area and I love the extra playing space the 4.6 model provides because it lets us spread out. I've been wanting to get a gaming table for a long time now and I'm glad I waited for this one!"
Wireless Charging and Power
---
Optional AC and USB power on the table plus innovative accessories such as wireless charging inserts for our Big Pads and cupholders ensure the games keeps rollin' all night long.
---
Using the same sustainable super-strong natural raw materials as our Elite line, the GameChanger Tables and Table Toppers are built to last. Expect nothing less from the Table of Ultimate Gaming.
Full Top Covers For Dining  
---
When it is time to take a break from gaming to eat you can place the available full covers on the tables or the table toppers and spend some quality time breaking bread with family and friends. Yes even the toppers have top covers available for them.
"Patience paid off. Set up my 6x4 and it is a thing of beauty. I was really nervous about buying this without testing it. Worried that it would be flimsy or look fake. The engineering is sound. It's one of the most solid pieces of furniture in my house and looks very upscale.".
Travis
"Beautiful game on a beautiful gaming table. You guys really knocked this out of the park! - Mike" "
Mike
" I just wanted to share with you our first night set up with TOUG. We are very excited and we are all set up and ready to go. Thanks again for a great product and great support! "
Jeff
---
Thing happen after you preorder a table. People move, life events happen, credit cards change, orders need to be changed, shippers make mistakes and damage or lose something. This is when customer service matters. Our amazing team of customers service peope are 100% dedicated to our products and brands. We are the leader in gaming tables and a brand that you can trust. We stand behind our products and we will always make it right.
---
We have our own production facility and we do not outsource our table production. This give us supreme control over quality and engineering. We ship direcly to your door via normal UPS ground and package with outstanding protection to ensure it arrives in perfect condition. This is an important decision, which table to buy and from whom. Trust the Table of Ultimate Gaming, the company with experience.  
---
We are gamers and geeks, and fathers and wives and partners and sons and daughters. Pretty normal people, but we like what we like, so we made it for ourselves and want to share it. We are also professional designers and deeply experienced in manufacturing. We use the finest machinery and human creative power to bring you amazing products.